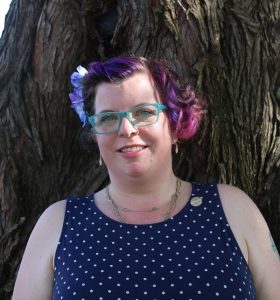 Lisa "Frisco" Dorr-Pozos was born and raised in San Francisco, where her earliest public speaking moments came reciting scripture at church. She credits her father for helping her practice elements like eye contact, posture, and voice projection from day one.  At Balboa High School, she joined the Debate/Speech Team, competing and frequently placing in events including Original Oratory, Humorous Interpretation, Dramatic Interp, Impromptu, and Shakespeare competitions. This earned her the Level of Distinction in the National Forensics League (NFL). She graduated in 1992 with several leadership honors, and was a commencement speaker.
She majored in both English (Literature emphasis) and Journalism at San Francisco State University, graduating cum laude in 1997. She returned to SFSU in 2001 and earned her single-subject teaching credential, intending to teach high school English. It was while working on-campus during her undergraduate studies that a supervisor dubbed her "The Frisco Kid," which became "Frisco" and would stick as a nickname.
Lisa joined Speakeasy Toastmasters in Monterey, California in 2013 after attending a Humorous Speech Contest. There, she was using her nickname (being one of three Lisa's on her team) and became known as "Frisco" throughout the Toastmasters community. She has since served in numerous club officer roles, including President, as well as competing and winning at Area level in Evaluation and International Speech Contests, and winning at Division level in the Humorous Speech Contest. In 2015-2016 she served as Area Director for District 4, Area 4, encompassing five clubs in Santa Cruz County. She has also served as a mentor, contest chair, chief judge, conference team member, and club mentor. She is currently a member of two advanced clubs.
In 2019, Frisco earned her Distinguished Toastmaster (DTM) award, the highest educational award possible in Toastmasters. This was the culmination of 40+ speeches, multiple officer roles, and additional leadership and mentoring projects. At the time, Toastmasters International reported that less than 1% of everyone who joins Toastmasters achieves their DTM.
Professionally, Lisa has worked in health care, real estate, finance, education and tutoring, and community journalism. She is drawn to jobs where she is able to help people and do some good, while offering her services as a freelance writer, editor, speaker, and presentation coach.
Lisa currently lives in Santa Cruz, CA and offers services throughout the Central Coast and Greater Bay Area.